Rebecca Lamb
Research Interests:
My lab is interested in the role of transcriptional control during pattern formation and is using the model plant species Arabidopsis thaliana to explore this topic. Specifically, we are using organ identity specification within the flower of Arabidopsis to study transcriptional networks controlling organ identity and differentiation. In addition to elucidating the molecular underpinnings of flower formation, the potential utilization of transcriptional networks to modify floral structure during evolution is also of interest.
We concentrate on the regulation and function of the Arabidopsis floral homeotic genes APETALA3 (AP3) and PISTILLATA (PI) which are necessary and sufficient for petal and stamen identity within the flower. They encode MADS box transcription factors thought to act as obligate heterodimers. Reflecting this, loss of function mutations in either gene give similar phenotypes consisting of homeotic conversions of organs in the second and third whorls of their flowers: petals are converted to sepals and stamens are converted to carpels. We are concentrating on the regulation and function of these transcription factors as an entryway into the transcriptional network within the flower.
Teaching:
Plant Biology 300

Plant Biology 741
Lab Members:
Graduate Students
Sachin Teotia (MCDB)

Shrilaksmi Makkena (PCMB)
Undergraduates
Postdoctorates
Staff
Selected publications (1995 - Date):
Palaniswamy, S., James, S., Sun H, Lamb, R.S., Davuluri, R.V., Grotewold, E. AGRIS and AtRegNet: 2006. A platform to link cis-regulatory elements and transcription factors into regulatory networks. Plant Physiology 140(3): 818-829.

Lamb, R.S. and V.F. Irish. 2002. Functional divergence within the APETALA3/PISTILLATA floral homeotic gene lineages. Proc. Nat. Acad. Sci., 100(11): 6558-6563.

Lamb, R.S., T.A. Hill, Q.K. Tan, and V. F. Irish. 2002. Regulation of APETALA3 floral homeotic gene expression by meristem identity genes. Development, 129(9): 2079-86.

Ward, R.E, L. Schweizer, R.S. Lamb, and R.G. Fehon. 2001. The protein 4.1, radixin, moesin (FERM) domain of Drosophila Coracle, a cytoplasmic component of the septate junction, provides functions essential for embryonic development and imaginal cell proliferation. Genetics, 159(1): 219-228.

Lamb, R.S., R.E. Ward, L. Schweizer, and R.G. Fehon. 1998. Drosophila coracle, a member of the protein 4.1 superfamily, has essential structural functions in the septate junctions and developmental functions in the embryonic and adult epithelial cell. Mol. Biol. Cell, 9(12): 3505-3519.

Ward, R.E., R.S. Lamb, and R.G. Fehon. 1998. A conserved functional domain of Drosophila Coracle is required for localization at the septate junction and has membrane-organizing activity. J. Cell Biol., 140(6): 1463-1473.

Fehon, R.G., D. LaJeunesse, R.S. Lamb, B.M. McCartney, L. Schweizer, and R.E. Ward. 1997. Functional studies of the protein 4.1 family of junctional proteins in Drosophila. Soc. Gen. Physiol. Ser., 52: 149-59.
Areas of Expertise
Transcription regulation of gene expression during flower development in Arabidopsis thaliana; MADS box transcription factor specificity.
Education
Ph.D., Duke University, 1998.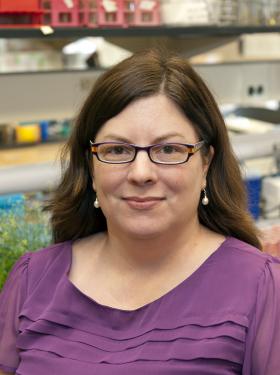 518 Aronoff Laboratory
318 West 12th Avenue
Columbus, OH 43210