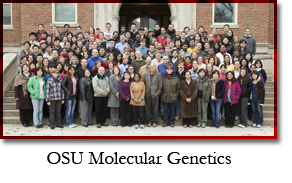 The Department of Molecular Genetics is devoted to exploring questions in genetics, molecular biology, cell biology and developmental biology using viruses, fungi, plants, and animals, with strengths in model organisms and genetic systems.
Our department represents a diverse group of researchers and teachers who are striving to understand fundamental issues in biology. Students in our programs develop the essential skills and knowledge that will enable them to tackle future exciting problems in biology.
Please select from the links to the right to learn more about the exciting educational and research opportunities available for graduate as well as undergraduate students.
Please feel free to contact us for additional information.
MOLECULAR GENETICS DEPARTMENT MISSION
Research in the fields of molecular, cellular and developmental genetics
Teaching at both the undergraduate and graduate levels
All of our faculty participate in educating undergraduate and graduate students both in the classroom and through their research programs. The faculty members have strong records of funding from national agencies. We publish papers in the top journals and are invited to present research at national and international meetings; several faculty members are recipients of national research awards. The outstanding reputation of our research has translated into excellent undergraduate and graduate programs that provide state of the art preparation for careers in modern biology.
---
[pdf] - Some links on this page are to .pdf files. These are designated by [pdf] following the link. pdf files require the use of Adobe Acrobat Reader software to open them. If you do not have Reader, you may use the following link to Adobe to download it for free.