Body
BUILDINGS
Molecular Genetics faculty are housed in several buildings:
For a better idea of where these buildings are on campus, view the OSU Campus Map.
LIBRARIES & DATABASES
The Ohio State University Library system participates in OhioLINK, a statewide network providing access to databases & library catalogs of more than 50 colleges and universities. Electronic access is available to hundreds of full-text journals & numerous databases.
RESEARCH EQUIPMENT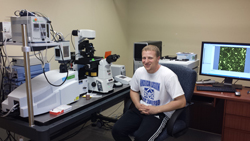 State-of-the-art Instrumentation and facilities are available to all researchers within the department. These include standard equipment items such as ultracentrifuges, liquid scintillation counters, phosphorimagers, spectrophotometers, high pressure liquid chromatographic equipment, constant-temperature rooms, PCR machines, electronic imaging systems, luminometers, growth chambers, and cell culture facilities. More specialized equipment is available in a variety of campus instrumentation facilities. These include the following:
Plant Microbe Genomics Facility
Services include: DNA sequencing, genotyping, DNA microarray, quantitiative PCR, proteomics.

Microscopy and Imaging Facility
This includes light, electron and confocal microscopy.

Transgenic Mouse Facility
Capabilities include pronuclear injections as well as embryonic stem cells for the creation of gene knock outs.

Comprehensive Cancer Center (CCC) Microarray Resource
Services include gene expression profiling using commercial and customized DNA chips.

Comprehensive Cancer Center (CCC) Nucleic Acid Shared Resource
Services include sample preparation, DNA methylation analysis, and next generation DNA sequencing.

Campus Chemical Instrument Center (CCIC) Mass Spectrometry and Proteomics Facility
Services include protein identification using Mass Spectrometry.

Human Cancer Genetics Genotyping Facility
Services include DNA sequencing and genotyping.

Mathematical Biosciences Institute
An Institute supported by NSF to promote the application of mathematical and computational tools to biological systems.

Analytical Cytometry Shared Resource
Flow cytometry is a quantitative analytical method that can measure physical and chemical properties of cells and particles as well as separate cells based on specific characteristics. The ACSR's University Cell Analysis and Sorting Core Laboratory provides instrumentation, technical operation and support for cell identification, characterization and cell separation. The resource provides the primary means of rapidly and accurately analyzing multiple cell characteristics up to thirteen markers as well as sorting pure populations of cells for cancer investigators.  A number of educational opportunities are available for researchers to use and apply flow cytometry. These include scientific seminars, cancer-specific meetings, instrumentation overviews, application workshops and full day training sessions  Additionally, the Mid Ohio Cytometry Associates (MOCA) regional "users group" has been established, which meets regularly to discuss relevant cytometry issues and to generate educational ideas. 
COMPUTER FACILITIES
These range from departmental microcomputers to a Cray Y MP8/864 supercomputer. Each laboratory is linked through a campus-wide network to mainframe computers permitting access to programs that include the Wisconsin GCG DNA sequence analysis program and the Lexis/Nexis search system. The College of Biological Sciences operates a Computational Biology Facility for studies on protein and nucleic acids structures.