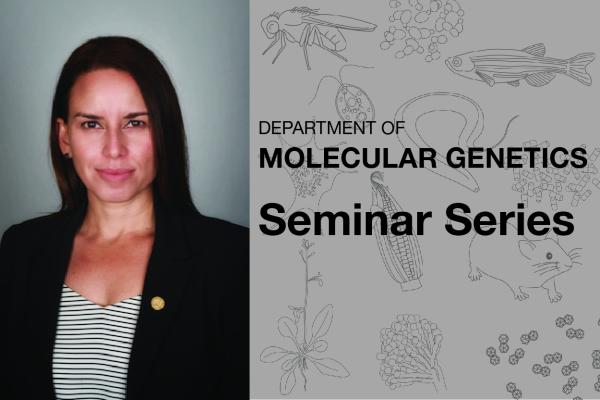 September 13, 2023
4:10PM - 5:05PM
Add to Calendar
2023-09-13 16:10:00
2023-09-13 17:05:00
Molecular Genetics Seminar: Dr. Greetchen Diaz
Join us for Dr. Greetchen Diaz's seminar at 4:10 in room 155 Jennings. Becoming Visible: A Story of Advocacy for Underrepresented Groups in STEM Dr. Greetchen Díaz, an OSU alumnus (MCDB, 2012, Dr. Anita Hopper's Lab), is a microbiologist, prolific science communicator, and fierce advocate for the inclusion of girls and women in STEM careers. As Director of the Science Education Program and Community Partnerships in Ciencia Puerto Rico, Dr. Díaz has developed and led community-based initiatives that promote culturally relevant science education and outreach. In 2021, she was awarded the Sor Isolina Ferré Award for Excellence in Service to Others. She is one of the 120 statues of outstanding contemporary women innovators in the disciplines of science, technology, engineering and mathematics (STEM) highlighted in the IF/THEN Exhibition. ​Read more about her here! Dr. Diaz was invited by the Department of Molecular Genetics DEI Committee and is hosted by Sharon Amacher (amacher.6) and Priscila Rodriguez Garcia (rodriguezgarcia2)
Room 155 Jennings Hall
OSU ASC Drupal 8
ascwebservices@osu.edu
America/New_York
public
Date Range
Add to Calendar
2023-09-13 16:10:00
2023-09-13 17:05:00
Molecular Genetics Seminar: Dr. Greetchen Diaz
Join us for Dr. Greetchen Diaz's seminar at 4:10 in room 155 Jennings. Becoming Visible: A Story of Advocacy for Underrepresented Groups in STEM Dr. Greetchen Díaz, an OSU alumnus (MCDB, 2012, Dr. Anita Hopper's Lab), is a microbiologist, prolific science communicator, and fierce advocate for the inclusion of girls and women in STEM careers. As Director of the Science Education Program and Community Partnerships in Ciencia Puerto Rico, Dr. Díaz has developed and led community-based initiatives that promote culturally relevant science education and outreach. In 2021, she was awarded the Sor Isolina Ferré Award for Excellence in Service to Others. She is one of the 120 statues of outstanding contemporary women innovators in the disciplines of science, technology, engineering and mathematics (STEM) highlighted in the IF/THEN Exhibition. ​Read more about her here! Dr. Diaz was invited by the Department of Molecular Genetics DEI Committee and is hosted by Sharon Amacher (amacher.6) and Priscila Rodriguez Garcia (rodriguezgarcia2)
Room 155 Jennings Hall
Department of Molecular Genetics
mginfo@osu.edu
America/New_York
public
Join us for Dr. Greetchen Diaz's seminar at 4:10 in room 155 Jennings.
Becoming Visible: A Story of Advocacy for Underrepresented Groups in STEM
Dr. Greetchen Díaz, an OSU alumnus (MCDB, 2012, Dr. Anita Hopper's Lab), is a microbiologist, prolific science communicator, and fierce advocate for the inclusion of girls and women in STEM careers. As Director of the Science Education Program and Community Partnerships in Ciencia Puerto Rico, Dr. Díaz has developed and led community-based initiatives that promote culturally relevant science education and outreach. In 2021, she was awarded the Sor Isolina Ferré Award for Excellence in Service to Others. She is one of the 120 statues of outstanding contemporary women innovators in the disciplines of science, technology, engineering and mathematics (STEM) highlighted in the IF/THEN Exhibition.
​Read more about her here!
Dr. Diaz was invited by the Department of Molecular Genetics DEI Committee and is hosted by Sharon Amacher (amacher.6) and Priscila Rodriguez Garcia (rodriguezgarcia2)
---