Image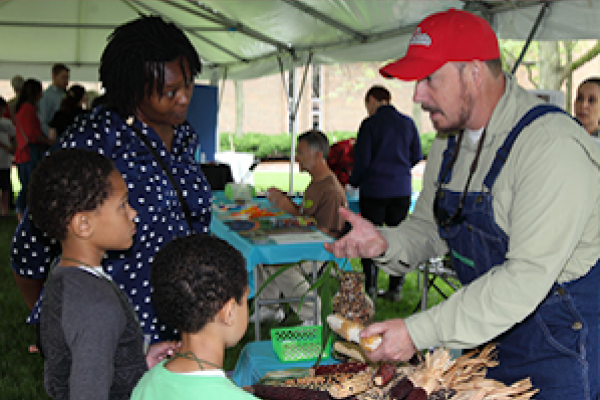 May 19, 2018
10:00AM - 2:00PM
Location
West Campus Quad - 1090 Carmack Drive
Date Range
Add to Calendar
2018-05-19 10:00:00
2018-05-19 14:00:00
Ohio State WestFest -West Campus Sustainability and Outreach Festival
WestFest 2018 will be held on Saturday, May 19, 2018 at the West Campus Quad (between Scott, Rightmire, Bevis, and Pressey Halls) on The Ohio State University Columbus Campus! Join us on the West Campus of The Ohio State University for a free public event showcasing sustainability and outreach at OSU and beyond! This event is open to people of all ages, from children to seniors.Participating departments and organizations include: Arabidopsis Biological Resource Center, Byrd Polar & Climate Research Center, Center for Applied Plant Sciences, Center for Automotive Research, OBIC, Sea Grant/Stone Lab, Office of Energy and Environment, Orton Geological Museum, and more.In addition to displays and hands-on activities highlighting research at Ohio State, there wil be tours of the Arabidopsis Biological Resource Center and Byrd Polar and Climate Research Center (available on a first come, first served basis).Food trucks Broke Johnny, Empanadas & More, and Maanas will be on hand to satisfy your appetite. A bike valet will be provided by Yay Bikes!Share information with your friends and family at go.osu.edu/westfest or download event fliers for display
West Campus Quad - 1090 Carmack Drive
OSU ASC Drupal 8
ascwebservices@osu.edu
America/New_York
public
Date Range
Add to Calendar
2018-05-19 10:00:00
2018-05-19 14:00:00
Ohio State WestFest -West Campus Sustainability and Outreach Festival
WestFest 2018 will be held on Saturday, May 19, 2018 at the West Campus Quad (between Scott, Rightmire, Bevis, and Pressey Halls) on The Ohio State University Columbus Campus! Join us on the West Campus of The Ohio State University for a free public event showcasing sustainability and outreach at OSU and beyond! This event is open to people of all ages, from children to seniors.Participating departments and organizations include: Arabidopsis Biological Resource Center, Byrd Polar & Climate Research Center, Center for Applied Plant Sciences, Center for Automotive Research, OBIC, Sea Grant/Stone Lab, Office of Energy and Environment, Orton Geological Museum, and more.In addition to displays and hands-on activities highlighting research at Ohio State, there wil be tours of the Arabidopsis Biological Resource Center and Byrd Polar and Climate Research Center (available on a first come, first served basis).Food trucks Broke Johnny, Empanadas & More, and Maanas will be on hand to satisfy your appetite. A bike valet will be provided by Yay Bikes!Share information with your friends and family at go.osu.edu/westfest or download event fliers for display
West Campus Quad - 1090 Carmack Drive
Department of Molecular Genetics
mginfo@osu.edu
America/New_York
public
Description
WestFest 2018 will be held on Saturday, May 19, 2018 at the West Campus Quad (between Scott, Rightmire, Bevis, and Pressey Halls) on The Ohio State University Columbus Campus!
Join us on the West Campus of The Ohio State University for a free public event showcasing sustainability and outreach at OSU and beyond! This event is open to people of all ages, from children to seniors.
Participating departments and organizations include: Arabidopsis Biological Resource Center, Byrd Polar & Climate Research Center, Center for Applied Plant Sciences, Center for Automotive Research, OBIC, Sea Grant/Stone Lab, Office of Energy and Environment, Orton Geological Museum, and more.
In addition to displays and hands-on activities highlighting research at Ohio State, there wil be tours of the Arabidopsis Biological Resource Center and Byrd Polar and Climate Research Center (available on a first come, first served basis).
Food trucks Broke Johnny, Empanadas & More, and Maanas will be on hand to satisfy your appetite. A bike valet will be provided by Yay Bikes!
Share information with your friends and family at go.osu.edu/westfest or download event fliers for display
---