May 24, 2019
2019 Falkenthal is a success
Image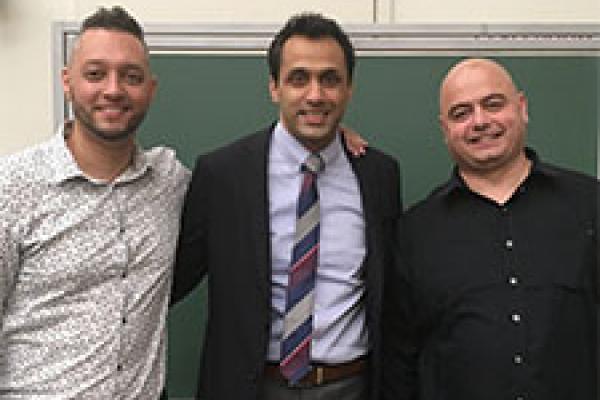 Description
On May 17th, 2019, the Departmental Falkenthal Colloquium highlighted research presentations from current graduate students.
The plenary talk was given by Dr. Amit Sharma. Amit earned a PhD in Molecular Genetics in 2012, and after postdoctoral studies at the Fred Hutchinson Cancer Research Center in Seattle he returned to OSU as an Assistant professor with a brand new lab that studies retrovirus-host interactions and HIV-1 transmission and pathogenesis. Amit spoke fondly of his time in Molecular Genetics, and kindly donated his honorarium to the Jim Hopper Memorial Undergraduate Research Endowment Fund in honor of Jim's mentorship during his time at OSU.
Each year the department makes awards within the graduate program in the three areas of academic effort: service, teaching, and research.
Service awards were given to:
Marcos Corchado from the Chamberlin lab for For his efforts as student chair of the Waller lecture this year.
Derek Boehm (Amanda Bird lab) and Ashton Holub (Husbands lab) for their efforts in graduate recruitment.
Teaching awards were given to:
Derek Boehm (Amanda Bird lab) for his work as a GTA in Molgen 4591S and Molgen 4500 in the Spring.
Mohammed Marhabaie (Wharton lab).  for his efforts in the Molgen 5601 lab course.
Research awards were given to:
Natalie Deans (Hollick lab): 1st place in the 5th year
Zhongxia Yi (Singh Lab): 1st place in the 3rd year
Swetha Rajasekaran (Miles lab): 2nd place in the 3rd year
---