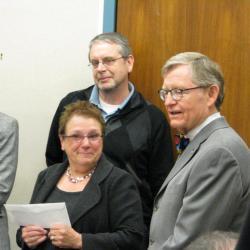 Our chair, Anita Hopper, was awarded the 2012 Distinguished Scholar Award. She was presented with this prestigious award by Dr. Gordon Gee at our faculty meeting held on Monday, January 9. Please extend your congratulations to her!

2012 University Distinguished Scholar Awards
The Distinguished Scholar Award, established in 1978, recognizes exceptional scholarly accomplishments by senior professors who have compiled a substantial body of research. The award is supported by the Office of Research. Recipients are nominated by their departments and chosen by a committee of senior faculty, including several past recipients of the award. Distinguished Scholars receive a $3,000 honorarium and a research grant of $20,000 to be used over the next three years.