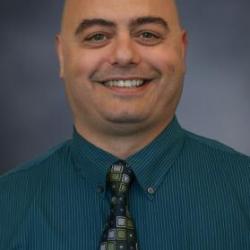 When Bailey Lucas joined the lab of Ruben Petreaca, assistant professor of molecular genetics, she expected that she would be partaking in research. She did not, however, anticipate that she would end up stepping away from the microscope to hop on a bike.
Lucas, a third-year zoology major at Ohio State Marion, has teamed up with Petreaca and other researchers to bike in Pelotonia, a weekend long bike ride to raise money for cancer research. She was also awarded a Pelotonia Fellowship for her work in Petreaca's lab, where she has been studying DNA repair mechanisms since last fall. Her work focuses on how DNA double strand breaks are repaired and what processes facilitate the correction.
"Double strand breaks can result in many different chromosomal abnormalities, which are hallmarks of cancer," Lucas said. "By finding out how they are repaired properly, we can better understand cancer."
The Pelotonia Fellowship — funded by proceeds from Pelotonia — is given to promising and accomplished undergraduate, graduate, medical and postdoctoral students of any discipline at Ohio State who demonstrate the potential to become independent cancer researchers.
Lucas is the first student at the Ohio State Marion campus to receive the fellowship and said that it meant a great deal to her to have been selected as an undergraduate fellow. She knew that the fellowship was awarded to those conducting significant research and is grateful to see that her work was deemed worthy of the recognition.
"I've always known how important our research is, but the fellowship just reaffirmed my confidence," Lucas said. "I am eager to continue my work and make more progress throughout the year, while inspiring more undergraduates to join in."
Petreaca agrees, saying that the fellowship reflects how important it is for undergraduates to get involved in research as soon as they can.
"Bailey enjoys research and derives satisfaction from contributing to field. Both of us also understand the importance of contributing further to cancer research," Petreaca said. "We are happy to be involved with the Pelotonia community and want to give back."
Receiving the fellowship will allow Lucas to devote more time to her research, and it has also inspired her to partake in the Pelotonia bike ride this August. Together with the peloton "Team Buckeye-Team Marion," she will ride 100 miles from Columbus to Gambier, Ohio.
Although she was initially hesitant to take on the bike-riding portion of Pelotonia, Lucas said that being able to combine her work in the lab with her work on the bike has been incredibly rewarding.
"It is a great feeling to know that you're a part of something bigger: Fund raising, bike training, and research, all for the cure," Lucas said, "It is an incredible experience all the way and I'm honored to be a part of it."