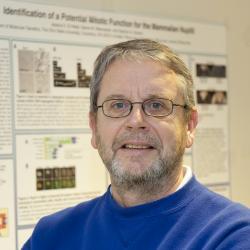 Two new papers from the
Bisaro
lab have been accepted for publication:
(1) Priya Raja, Jamie N. Jackel, Sizhun Li, Isaac M. Heard, and David M. Bisaro. Arabidopsis Double-Stranded RNA Binding Protein DRB3 Participates in Methylation-Mediated Defense against Geminiviruses. Journal of Virology, accepted.
This work has been nominated for a "Spotlight" feature by the journal. It is authored by former students Raja and Jackel and current PhD candidate Li.
(2) Gireesha Mohannath, Jamie N. Jackel, Youn Hyung Lee, R. Cody Buchmann, Hui Wang, Veena Patil, Allie K. Adams, and David M. Bisaro. A Complex Containing SNF1-Related Kinase (SnRK1) and Adenosine Kinase in Arabidopsis,Plos One, accepted.
Kuo-Fang Shen, Aysha H. Osmani, Meera Govindaraghavan and Stephen A. Osmani. Mitotic regulation of fungal cell-to-cell connectivity through septal pores involves the NIMA kinase. Molecular Biology of the Cell, accepted.
The manuscript is authored by former PhD students Kuo-Fang and Meera. The MBoC editors will feature this new discovery that NIMA kinase reciprocally regulates septal pore opening during interphase and nuclear pore disassembly during mitosis in the "Highlights" of the issue.
Congratulations to all!!!!!!!!!!!!!!