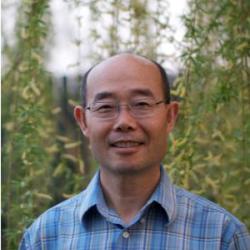 We are deeply saddened to announce that Professor Biao Ding passed away unexpectedly on June 25, 2015 in Prague, Czech Republic while attending an international conference.
Biao joined Ohio State University through the Plant Cellular & Molecular Biology department in 2000, following his first faculty position in 1994 at Oklahoma State University in the Department of Botany. Since 2005, he was Full Professor in the Department of Molecular Genetics.
Biao's primary research interest was intercellular communication in plants through plasmodesmata, specialized structures that physically connect adjacent cells. He turned to the use of viroids, enigmatic plant pathogens comprised of naked, non-coding RNA, as the model molecule to use in his unique approach to studying intercellular transport. His work was the first to identify the primary and tertiary determinates of RNA structure needed for systemic viroid movement and resulted in more than 40 publications in prominent journals such as PNAS, EMBO J and the Plant Cell. By nature, Biao was a strong team player. His research programs consisted of numerous collaborations both in the US and beyond.
His election to AAAS in 2012 and prominent position as senior editor of Molecular Plant-Microbe Interactions (MPMI) and scientific editor of PLoS Pathogens testifies to his highly regarded roles in the scientific community. Biao was enthusiastic in sharing his expertise by giving lectures in various workshops and short courses overseas, and recently organized and hosted an International Conference on Plant Vascular Biology here at Ohio State University.
Biao was a courageously thinking and far-reaching scientist of highest integrity and a gentle, kind and sincere person. He generously shared his time and resources with colleagues, and started numerous students and post-doctoral researchers on paths to their own successful careers. His quiet but ever-smiling presence in the research and teaching halls of Ohio State University will be sadly missed by all.