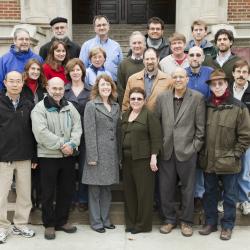 Congratulations to Molecular Genetics labs for the following publications that came out during Autumn of 2015
Dietary Apigenin Exerts Immune-Regulatory Activity in Vivo by Reducing NF-κB Activity, Halting Leukocyte Infiltration and Restoring Normal Metabolic Function. Cardenas H, Arango D, Nicholas C, Duarte S, Nuovo GJ, He W, Voss OH, Gonzalez-Mejia ME, Guttridge DC, Grotewold E, Doseff AI. Int J Mol Sci. 2016 Mar 1;17(3). pii: E323. doi: 10.3390/ijms17030323.

FGFR and PTEN signaling interact during lens development to regulate cell survival. Chaffee BR, Hoang TV, Leonard MR, Bruney DG, Wagner BD, Dowd JR, Leone G, Ostrowski MC, Robinson ML. Dev Biol. 2016 Feb 15;410(2):150-63. doi: 10.1016/j.ydbio.2015.12.027

Sequential Notch activation regulates ventricular chamber development. D'Amato G, Luxán G, Del Monte-Nieto G, Martínez-Poveda B, Torroja C, Walter W, Bochter MS, Benedito R, Cole S, Martinez F, Hadjantonakis AK, Uemura A, Jiménez-Borreguero LJ, de la Pompa JL. Nat Cell Biol. 2016 Jan;18(1):7-20. doi: 10.1038/ncb3280.

Real-Time Visualization and Quantification of Contractile Ring Proteins in Single Living Cells. Davidson R, Liu Y, Gerien KS, Wu JQ. Methods Mol Biol. 2016;1369:9-23. doi: 10.1007/978-1-4939-3145-3_2.

Control of Saccharomyces cerevisiae pre-tRNA processing by environmental conditions. Foretek D, Wu J, Hopper AK, Boguta M. RNA. 2016 Mar;22(3):339-49. doi: 10.1261/rna.054973.115.

Flavonols drive plant microevolution. Grotewold E. Nat Genet. 2016 Jan 27;48(2):112-3. doi: 10.1038/ng.3490.

Multiple Layers of Stress-Induced Regulation in tRNA Biology. Huang HY, Hopper AK. Life (Basel). 2016 Mar 23;6(2). pii: E16. doi: 10.3390/life6020016.

ARHGEF17 sets the timer for retention of Mps1 at kinetochores. Marquardt JR, Fisk HA. J Cell Biol. 2016 Mar 14;212(6):615-6. doi: 10.1083/jcb.201602060

Regulation of nuclear shape and size in plants. Meier I, Griffis AH, Groves NR, Wagner A. Curr Opin Cell Biol. 2016 Mar 28;40:114-123. doi: 10.1016/j.ceb.2016.03.005.

Core Promoter Plasticity Between Maize Tissues and Genotypes Contrasts with Predominance of Sharp Transcription Initiation Sites. Mejía-Guerra MK, Li W, Galeano NF, Vidal M, Gray J, Doseff AI, Grotewold E. Plant Cell. 2015 Dec;27(12):3309-20. doi: 10.1105/tpc.15.00630.

Aperture number influences pollen survival in Arabidopsis mutants. Prieu C, Matamoro-Vidal A, Raquin C, Dobritsa A, Mercier R, Gouyon PH, Albert B. Am J Bot. 2016 Mar;103(3):452-9. doi: 10.3732/ajb.1500301

50 years of Arabidopsis research: highlights and future directions. Provart NJ, Alonso J, Assmann SM, Bergmann D, Brady SM, Brkljacic J, Browse J, Chapple C, Colot V, Cutler S, Dangl J, Ehrhardt D, Friesner JD, Frommer WB, Grotewold E, Meyerowitz E, Nemhauser J, Nordborg M, Pikaard C, Shanklin J, Somerville C, Stitt M, Torii KU, Waese J, Wagner D, McCourt P. New Phytol. 2016 Feb;209(3):921-44. doi: 10.1111/nph.13687.

The First Rule of Plant Transposable Element Silencing: Location, Location, Location. Sigman MJ, Slotkin RK. Plant Cell. 2016 Feb;28(2):304-13. doi: 10.1105/tpc.15.00869.

Plant epigenetics: from genotype to phenotype and back again. Slotkin RK. Genome Biol. 2016 Mar 29;17(1):57. doi: 10.1186/s13059-016-0920-5.

Kernel Architecture of the Genetic Circuitry of the Arabidopsis Circadian System. Foo M, Somers DE, Kim PJ. PLoS Comput Biol. 2016 Feb 1;12(2):e1004748. doi: 10.1371/journal.pcbi.1004748.

Transcriptome regulation and chromatin occupancy by E2F3 and MYC in mice. Tang X, Liu H, Srivastava A, Pécot T, Chen Z, Wang Q, Huang K, Sáenz-Robles MT, Cantalupo P, Pipas J, Leone G. Sci Data. 2016 Feb 16;3:160008. doi: 10.1038/sdata.2016.8.

The many roles of Notch signaling during vertebrate somitogenesis. Wahi K, Bochter MS, Cole SE. Semin Cell Dev Biol. 2016 Jan;49:68-75. doi: 10.1016/j.semcdb.2014.11.010.

Disruption of somitogenesis by a novel dominant allele of Lfng suggests important roles for protein processing and secretion. Williams DR, Shifley ET, Braunreiter KM, Cole SE. Development. 2016 Mar 1;143(5):822-30. doi: 10.1242/dev.128538.