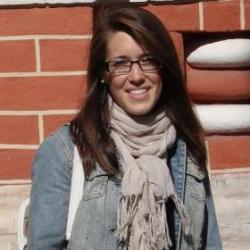 Congratulations to graduate student Andrea McCue, in Keith Slotkin's lab, who was awarded an OSU RNA 2011 fellowship!

Congratulations also to undergraduates, Jared Kusar in Harald Vaessin's lab and Anthony Kiragu, in Helen Chamberlin's lab, were awarded Arts and Sciences undergraduate research fellowships!

Subbulakshmi Suresh, in Steve Osmani's lab was selected as one of ten OSU graduate students nominated for the Howard Hughes Medical Institute International Student Research Fellowship.
New high profile publications:
Congratulations to Iris Meier and student, Xiao Zhou whose studies on Plant KASH-SUN Bridges and their role in RanGAP Anchoring and Nuclear Shape Determination was accepted for publication in the Journal of Cell Biology.

Gustavo Leone and Michael Ostrowski are co-corresponding authors of a publication on reprograming of tumor microenvironment by PTEN-regulated miR-320 to be published in Nature Cell Biology, probably in January. I think this makes 5 publications for Gustavo published in Nature journals in the past 24 months, likely a new international record!!!