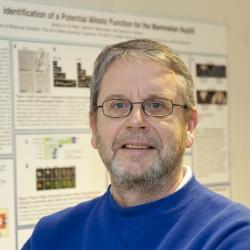 Kuo-Fang Shen and Stephen A. Osmani.

Regulation of mitosis by the NIMA kinase involves TINA and its newly discovered partner An-WDR8 at spindle pole bodies. MBoC, in press.

Kuo-Fang is a former graduate student.

Jennifer R. Larson, Eric M. Facemyer, Kuo-Fang Shen, Leena Ukil, and Stephen A. Osmani

The NIMA kinase and SonC, its new chromatin-associated suppressor, might orchestrate global chromatin organization during mitosis and the DNA damage response. Genetics, in press.

Jennifer Larson is a former postdoctoral scholar, Shen and Ukil are former graduates students, and Facemyer was an undergraduate.

Meera Govindaraghavan, Alisha A. Lad and Stephen A. Osmani

The NIMA kinase is required to execute stage specific mitotic functions after initiation of mitosis. Eukaryotic Cell (accepted).

Former graduate student, Meera Govindaraghavan, is conducting postdoctoral studies at U. Mass. Med. Sch. and Alisha Lad is a current MG student.