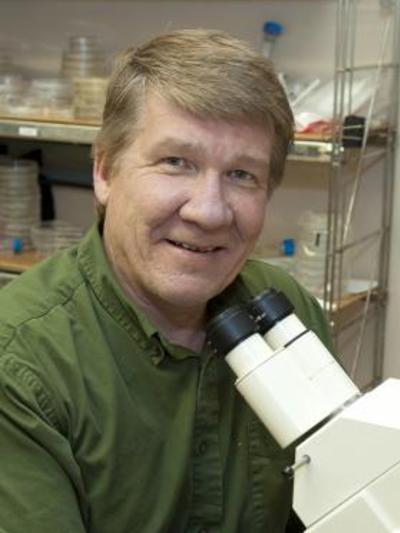 Gregory Booton
Assistant Professor
578 Aronoff Laboratory
318 West 12th Avenue
Columbus, OH
43210
Areas of Expertise
Evolution of Free-living Ameba
Pathogenicity and Genotypes
RNA Biology
Acanthamoeba is a ubiquitous protist taxon found in a wide range of natural environments.  However, isolates of this genus also are capable of producing opportunistic infections in humans and a variety of other animals, some of which are fatal.  For more than a decade we have sought to determine the phylogenetic relationships between both pathogenic and non-pathogenic isolates of this genus in an effort to resolve the confusing taxonomy based of morphological characters.  Morphological characters can be quite variable, and therefore are often unreliable as a robust method to identify an isolate.  Our determination of Acanthamoeba genotypes based on ribosomal RNA gene sequencing has greatly improved isolate identification for researchers worldwide.  We have established that particular Acanthamoeba genotypes are involved in different disease manifestations and further that some genotypes have not been found to be associated with disease at all.  We are also interested in examining the genetic variability of protein-coding genes of Acanthamoeba genotypes that may potentially be involved in pathogenicity, and any correlation between this genotype variability and relative pathogenicity.  Lastly, we are interested in the role that bacterial endosymbionts found in Acanthamoeba may play in the pathogenicity of this genus.  In addition, we have also more recently become involved in the study of the protistan genus Balamuthia, which has only very rarely been isolated from the environment.  However, numerous isolates have been found in fatal cases of granulomatous amebic encephalitis (GAE) in humans and other animals.  We are interested in the evolutionary history, genetic variability, and natural distribution of this organism.  Research is currently underway in all of these areas of study in our lab.
Publications
M. Kent, S. R. Platt, R. R. Rech, J. S. Eagleson, E. W. Howerth,M. Shoff, P. A. Fuerst, G. Booton, G. S Visvesvara, S. J. Schatzberg.  2011. A MULTI-SYSTEMIC INFECTION WITH A NOVEL ACANTHAMOEBA SPECIES IN A DOG.  J. Am. Vet. Med. Assoc 238:1476-81.

G. S. Visvesvaraa, M. E. Shoff, R. Sriram, G. C. Booton, M. Crary, P. A. Fuerst, C. S. Hanley, Michael & M. Garnerd.  2010.  ISOLATION, MORPHOLOGIC, SEROLOGIC AND MOLECULAR IDENTIFICATION OF ACANTHAMOEBA T4 GENOTYPE FROM THE LIVER OF A TEMMINCK'S TRAGOPAN (TRAGOPAN TEMMINCKII). Vet. Parasitol.170: 197–200.

G. C. Booton, C. E. Joslin, M. E. Shoff, E. Y. Tu, D. J. Kelly, & P. A. Fuerst. 2009.  GENOTYPIC IDENTIFICATION OF ACANTHAMOEBA SP ISOLATES ASSOCIATED WITH AN OUTBREAK OF ACANTHAMOEBA KERATITIS (AK). Cornea 28:673-76.

Tu, E. Y., C. E. Joslin, J. S. Sugar, M. E. Shoff, & G. C. Booton. 2008.  PROGNOSTIC FACTORS AFFECTING VISUAL OUTCOME IN ACANTHAMOEBA KERATITIS. Ophthamology 115:1998-2003.

R. Sriram, M. Shoff, G. Booton, P. Fuerst, & G. S. Visvesvara.  2008.  SURVIVAL OF ACANTHAMOEBA CYSTS AFTER DESICCATION FOR MORE THAN 20 YEARS  J Clin Micro, 46:4045-4048.

Tu, E. Y., C. E. Joslin, J. S. Sugar, G. C. Booton, M. E. Shoff. 2008. THE RELATIVE VALUE OF CONFOCAL MICROSCOPY AND SUPERFICIAL CORNEAL SCRAPINGS IN THE DIAGNOSIS OF ACANTHAMOEBA KERATITIS. Cornea, 27:764-772.

Kinde, D. H. Read, B.M. Daft, M. Manzer, R. W. Nordhaussen, D. J. Kelly, P. A. Fuerst, G. Booton, G. S. Visvesvara 2007. INFECTIONS CAUSED BY PATHOGENIC FREE- LIVING AMOEBAE (BALAMUTHIA MANDRILLARIS AND ACANTHAMOEBA SP.) IN HORSES. H. J Vet Diagn Invest 19:317-322.

R. Walia, J. G. Montoya, G. S. Visvesvara, G. C. Booton, R. L. Doyle. 2007. A CASE OF SUCCESSFUL TREATMENT OF CUTANEOUS ACANTHAMOEBA INFECTION IN A LUNG TRANSPLANT RECIPIENT Transpl Infect Dis 9:51-54

Seal, D., U. Player; Contributing Authors: G. Booton, C. Ferrer, S. Gardner, R. Kowalski, & P. Thomas. 2007. OCULAR INFECTION, CRC Press, ISBN 0849380931, 384pp.

C. Joslin, E. Tu, M. Shoff, G. Booton, P. Fuerst, T. McMahon, R. Anderson, M. Dworkin, J. Sugar, F. Davis, & L. Stayner. 2007. THE ASSOCIATION OF CONTACT LENS SOLUTION USE AND ACANTHAMOEBA KERATITIS. Am J Ophthalmol 2007;144:169â180.

McKellar, M., L. R. Mehta, J. E. Greenlee, D. C. Hale, G. C. Booton, D. J. Kelly, P. A. Fuerst, R. Sriram, and G. S. Visvesvara. 2006. FATAL GRANULOMATOUS ACANTHAMOEBA ENCEPHALITIS MIMICKING A STROKE, DIAGNOSED BY CORRELATION OF RESULTS OF SEQUENTIAL MAGNETIC RESONANCE IMAGING, BIOPSY, IN VITRO CULTURE, IMMUNOFLUORESENCE ANALYSIS, AND MOLECULAR ANALYSIS. J. Clin. Micro. 44: 4265-69.

Visvesvara, G. S., G. Booton, D. J. Kelly, P. Fuerst, R. Sriram, A. Finkelstein, & M. M. Garner. 2006. IN VITRO CULTURE, SEROLOGIC AND MOLECULAR ANALYSIS OF ACANTHAMOEBA ISOLATED FROM THE LIVER OF A KEEL-BILLED TOUCAN (RAMPHASTOS SULFURATUS) Vet Parisitol, 143:74-8.