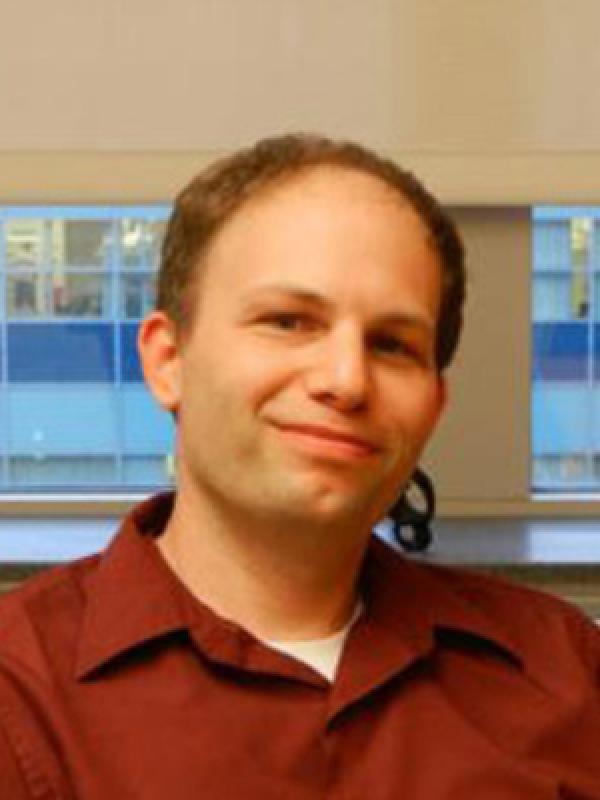 Craig Burd
Assistant Professor
590 Biomedical Research Tower
460 West 12th Avenue
Columbus, OH 43210
 
Areas of Expertise
Cancer Biology
Steroid Hormone Receptors
Epigenetics and Gene Regulation
Research Interests
Steroid hormones signal throughout the body to regulate various physiological processes.  These steroids interact with proteins called nuclear receptors that act as transcription factors to bind DNA and initiate a cascade of events leading to the activation or repression of target genes.  The process of turning on nuclear steroid receptors is tightly controlled through a variety of molecular mechanisms.  These mechanisms of control are frequently deregulated in cancers, most notably breast and prostate.  My group focuses on understanding these molecular mechanisms which govern receptor activity and delineating how these processes are deregulated in cancer.
Endocrine Disruptors
A particular interest of my group is the potential of environmental compounds known as endocrine disruptors to influence estrogen receptor activity.  Estrogens are steroids that are able to activate the estrogen receptor.  Both man-made, industrial chemicals, such as bisphenol A, and naturally occurring plant compounds found in our diet are able to mimic estrogens and activate the estrogen receptor.  Nonetheless, activation of the receptor by these environmental compounds is not equivalent to activation by estrogen (estradiol).  One aim of my group is to understand how the receptor differentiates activation by estradiol from activation by an endocrine disruptor such as bisphenol A.
Exposure to environmental estrogens during early life can reprogram the mammary gland increasing the potential for cancer development in adulthood.  This phenomenon represents a window of susceptibility during development in which estrogenic exposures may carry increased risks. The pathology associated with these windows of susceptibility usually present well after the exposure and suggests permanent and epigenetic alteration to the affected tissues.  My group is interested in understanding the mechanistic pathways by which environmental compounds may initiate epigenetic changes in the mammary gland that lead to altered morphology and an increased risk of breast cancer.  
Estrogenic control of breast cancer proliferation
A second area of interest in my group is aimed at understanding how the estrogen receptor controls proliferation of breast cancer.  The majority of breast cancers rely on estrogen receptor activity for growth and survival. For this reason, patients receive hormone therapy aimed at inhibiting the estrogen receptor.  While initially effective, cancers eventually reactivate the estrogen receptor even in the presence of these hormone therapies.  My lab would like to identify novel downstream targets of the estrogen receptor that control proliferation as potential therapeutic targets for therapy relapsed disease.  One potential target is GREB1, a gene whose expression is highly upregulated upon estrogen receptor activation.  Previous studies have shown that GREB1 can regulate estrogen-dependent proliferation, yet the molecular mechanism behind this control is unknown. In the lab, we are actively investigating the molecular actions of this protein.
Estrogen in melanoma
Several lines of evidence suggest that estrogen action may play a protective role against melanoma development.  For instance, men are more likely to be diagnosed and die of the disease.  Furthermore, loss of estrogen receptor beta expression correlates with increase disease progression and lower survival.  My group is using both mouse models and mammalian cell culture approaches to understand how estrogen receptor beta activity may protect melanocytes from cancer initiation.
Laboratory Personnel
From Left to Right:  Craig Burd, Claire Kovalchin (UG), Alexander Young (UG), Nanditha Ravichandran (UG), Clarissa Wormsbaecher (GS), Corinne Haines (GS).  UG-undergraduate student GS-graduate student.
Current Lab Members
   Corinne Haines
   Graduate Student
   Corinne.haines@osumc.edu
   Clarissa Wormsbaecher
   Graduate Student, OSBP
   Clarissa.wormsbaecher@osu.edu
   Mankanko Komara
   Research Technician
   Mankanko.komara@osumc.edu
Undergraduates:
Claire Kovalchin
Nanditha Ravichandran
Alexander Young
Past Lab Members
Xingyan Kuang (Post-doctoral Fellow)
Jinyu Hu (Post-doctoral Fellow) 
Andrea Hindman (Graduate Student)
Ali Shapiro (Research Technician)
Alina Murphy (Research Technician)
Melissa Bittner (Research Technician)
Karen Wernke (Undergraduate)
Shelby York (Undergraduate)
Katie Troll (Undergraduate)
Hannah Helber (undergraduate)
Publications
Burd CJ, Archer TK. Chromatinarchitecture defines the glucocorticoid response. Mol Cell Endocrinol. 2013 Mar 29. doi:pii: S0303-7207(13)00116-0. 10.1016/j.mce.2013.03.020. [Epub ahead of print] PubMed PMID: 23545159.

Augello MA, Burd CJ, Birbe R, McNair C, Ertel A, Magee MS, Frigo DE, Wilder-Romans K, Shilkrut M, Han S, Jernigan DL, Dean JL, Fatatis A, McDonnell DP, Visakorpi T, Feng FY, Knudsen KE. Convergence of oncogenic and hormone receptor pathways promotes metastatic phenotypes. J Clin Invest. 2013 Jan 2;123(1):493-508. doi: 10.1172/JCI64750. Epub 2012 Dec 21. PubMed PMID: 23257359; PubMed Central PMCID: PMC3533295

Burd CJ, Ward JM, Crusselle-Davis VJ, Kissling GE, Phadke D, Shah RR, Archer TK: Analysis of Chromatin Dynamics during Glucocorticoid Receptor Activation. Mol Cell Biol 2012;32:1805-1817. PMID: 22451486

Comstock CE, Augello MA, Schiewer MJ, Karch J, Burd CJ, Ertel A, Knudsen ES, Jessen WJ, Aronow BJ, Knudsen KE: Cyclin D1 is a selective modifier of androgen-dependent signaling and androgen receptor function. J Biol Chem 2011;286:8117-8127. PMID:  21212260

Burd CJ, Kinyamu HK, Miller FW, Archer TK: UV radiation regulates Mi-2 through protein translation and stability. J Biol Chem 2008;283:34976-34982. PMID: 18922793

Wang Y, Dean JL, Millar EK, Tran TH, McNeil CM, Burd CJ, Henshall SM, Utama FE, Witkiewicz A, Rui H, Sutherland RL, Knudsen KE, Knudsen ES: Cyclin D1b is aberrantly regulated in response to therapeutic challenge and promotes resistance to estrogen antagonists. Cancer Res 2008;68:5628-5638. PMID: 18632615

Olshavsky NA, Groh EM, Comstock CE, Morey LM, Wang Y, Revelo MP, Burd C, Meller J, Knudsen KE: Cyclin D3 action in androgen receptor regulation and prostate cancer. Oncogene 2008;27:3111-3121. PMID: 18084330

Burd CJ, Petre CE, Morey LM, Wang Y, Revelo MP, Haiman CA, Lu S, Fenoglio-Preiser CM, Li J, Knudsen ES, Wong J, Knudsen KE: Cyclin D1b variant influences prostate cancer growth through aberrant androgen receptor regulation. Proc Natl Acad Sci U S A 2006;103:2190-2195. PMID: 16461912

Petre-Draviam CE, Williams EB, Burd CJ, Gladden A, Moghadam H, Meller J, Diehl JA, Knudsen KE: A central domain of cyclin D1 mediates nuclear receptor corepressor activity. Oncogene 2005;24:431-444. PMID: 15558026

Link KA, Burd CJ, Williams E, Marshall T, Rosson G, Henry E, Weissman B, Knudsen KE: BAF57 governs androgen receptor action and androgen-dependent proliferation through SWI/SNF. Mol Cell Biol 2005;25:2200-2215. PMID: 15743818

Burd CJ, Petre CE, Moghadam H, Wilson EM, Knudsen KE: Cyclin D1 binding to the androgen receptor (AR) NH2-terminal domain inhibits activation function 2 association and reveals dual roles for AR corepression. Mol Endocrinol 2005;19:607-620. PMID: 15539430

Singleton DW, Feng Y, Burd CJ, Khan SA: Nongenomic activity and subsequent c-fos induction by estrogen receptor ligands are not sufficient to promote deoxyribonucleic acid synthesis in human endometrial adenocarcinoma cells. Endocrinology 2003;144:121-128.PMID: 12488337